Ways you can support us
From a one-off donation to committing to monthly giving, your support gives wild birds a second chance at life.
Make a donation
Your donation will help ensure that BirdCare Aotearoa can continue to provide the highest standard of care to sick, injured, and orphaned wild birds.
Your kindness means that all birds will receive prompt veterinary care, nutritious food and suitable habitats – giving them the best possible chance of release back into the wild.
Whether you're making a general donation to BirdCare Aotearoa or supporting a particular project, your generosity will directly support the birds in our care. If you wish to donate to a particular project, please add a note in the comments field when making your payment.
Thank you so much for caring for New Zealand's wild birds. We truly appreciate your support.
Bank transfer
If you would prefer to make your donation by bank transfer, our account details are BirdCare Aotearoa: 12-3029-0421056-50
BirdCare Aotearoa operates in New Zealand, uses SSL, does not store credit card details, and all payments are handled by a secure PCI compliant, third party.

Monthly giving
Everything we do depends on the generosity of people like you! We receive no government funding and rely entirely on our wonderful supporters to help us care for the thousands of birds brought to our rehabilitation centre every year.
We need $600,000 each year to provide life-saving veterinary care and support to our patients.
$20 provides care for a bird for one day
$50 provides oxygen support for critically injured birds
$100 provides pain relief and physiotherapy for six kererū
$200 provides seabirds with fresh fish for one month
Your monthly donation will make a sustainable difference to the wild birds in our care.
For monthly giving, please set up an automatic payment to the bank account for BirdCare Aotearoa: 12-3029-0421056-50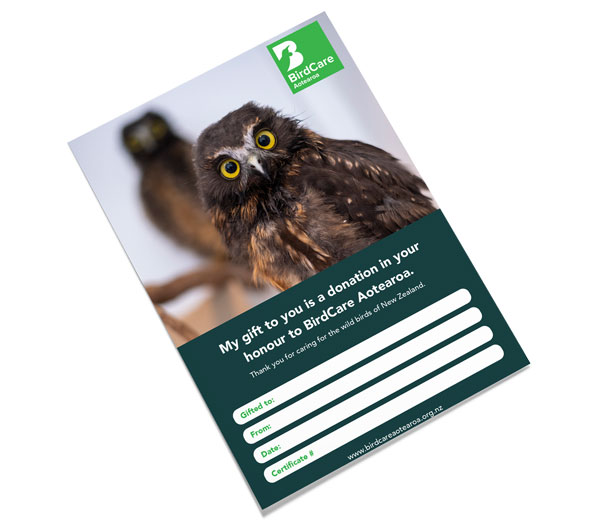 Gift certificates
Make someone smile and make a real impact by making a donation in their honour with one of our BirdCare Aotearoa gift certificates.
We have a wide range of gift certificates to choose from, with birds and images to suit all personalities and occasions. Every gift certificate purchased contributes directly to our work caring for sick, injured, and orphaned wild birds.
MyGivingCircle
BirdCare Aotearoa is competing to win a share of a $100,000 MyGivingCircle grant.
Voting is free and you can vote once per week until the end of December. If you are able to donate, every $1 donated = 1 vote.
Please vote once a week until 31 December 2021, and donate whenever you can, to help BirdCare Aotearoa win a share of this grant.
VOTE FOR FREE today to help give wild birds a second chance at life! Click the blue button below to go to the MyGivingCircle voting page.
Wish list
If you would like to help us out with any of the following items, we will put them to good use:
Dry kitten food (chicken / beef)
Eggs – hard boiled or fresh
Frozen mixed vegetables
Kumara
Spinach
Mixed fruit, oranges, apples
Seasonal berries / wild berries
Mealworms – live & dried
Bloodworms – frozen
Brine shrimp – frozen
Marinara
Puppy pads
Fly spray
Laundry powder (fragrance free)
Black trash bags
Disposable gloves (powder free, e.g. nitrile or latex)
Multi-purpose cleaning spray (fragrance free)
Contact support@birdcareaotearoa.org.nz to donate any items from our wish list.
Donate a celebration
Donate a special occasion to fundraise for New Zealand's wild birds.
Whether it's a birthday celebration, anniversary, wedding, or an occasion in memory of someone special who has passed away, your generous donation in lieu of gifts will make your celebration all the more special and will make a world of difference for birds in our care.
Register your fundraiser on The Good Registry or GiveaLittle to get started.
Bequests
Leaving a gift in your will to BirdCare Aotearoa is one of the most meaningful and powerful ways to support our work, and leaves a lasting legacy for the wild birds of New Zealand.
BirdCare Aotearoa exists only due to the kindness and generosity of bird lovers like you, and we rely on donations and grants to continue our important work. A legacy will ensure that we can continue to provide the highest standard of veterinary care and support to wild birds by ensuring much-needed funding for the years ahead.
We appreciate that this is an important decision and that you may wish to talk it over with your loved ones first. We recommend you discuss your legacy wishes with your solicitor or trustee company when preparing your will to ensure it contains the correct wording for the type of gift you wish to make.
Should you decide to leave a gift in your will, please do let us know so we can thank you appropriately for your generosity. Or if you would like to remain anonymous, we are happy to respect your wishes.
If you are interested in supporting the work of BirdCare Aotearoa through your will and would like to discuss this, please email support@birdcareaotearoa.org.nz or phone our centre and ask to speak with our General Manager, Lynn Miller.
MyFundraiser
Do good AND never worry about toilet paper shortages again!
When you order your toilet paper through My Fundraiser, BirdCare Aotearoa receives 10% of the full purchase price – that's $5 for every box sold.
The cartons and rolls are plastic-free, purchases are tax deductible, and there is free shipping.
When you order your toilet rolls from My Fundraiser, know that you are helping sick, injured and abandoned birds receive the medical care and attention they need.
Visit http://www.myfundraiser.co.nz/Support/birdcareaotearoa to order your toilet paper now.
Payroll giving
Payroll giving offers you the opportunity to support BirdCare Aotearoa directly by having your donation automatically deducted (pre-tax) from your salary.
If you donate more than $5, you will be eligible for a tax rebate of a third of your donation.
Please contact your Payroll Administrator to set up payroll giving for BirdCare Aotearoa or to find out if your company participates in payroll giving.
For more information, you or your Payroll Administrator can email us at support@birdcareaotearoa.org.nz.