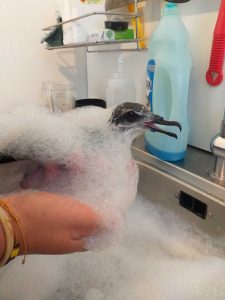 We received 148 tītī (Cook's petrel) through our centre from mid-March to April - the bulk of which arrived over one week!
No sooner had we released them, a new batch arrived, so we were certainly kept on our toes.
Poor weather and low cloud levels kept fledging petrels flying lower than usual over Auckland.
Attracted by the bright city lights they became grounded on roads, beaches or backyards… . Once grounded, they are unable to become airborne unless from a great height.
Cook's petrels breed on Little Barrier and Great Barrier Islands, off north-eastern North Island, and Codfish Island, near Stewart Island. The Barrier populations fledge and head west, over the Auckland region and out to the Tasman Sea where they then head northwards.
Some of the petrels lost their waterproofing as a result of coming into contact with diesel and petrol on the roads, or from human handling which damages their feathers.
(Always use cloth, gloves or a towel to pick them up. Avoid using bare hands).
Their waterproofing was restored by bathing them with Dawn, a deep cleansing soap that removes harmful substances from their feathers.
A dedicated team of local bird lovers helped to release boxes of petrels with only a few hours notice near Bethells Beach, navigating high tides, stormy weather, and steep cliffs, often in darkness.
Certainly a team effort and we are so deeply grateful for their commitment and efforts!